EUDC 2010 wartet auf die Breaks in die Finalrunden
Am Mittwoch wurde in Amsterdam die zweite Hälfte der Vorrunden ausgetragen. Die Spannung steigt, das ein oder andere VDCH-Team könnte in die Finalrunden einziehen! Die Verkündung des Break ist für heute abend geplant.
Hier im Überblick die Themen der Vorrunden fünf bis acht:
This House believes that Bradley Manning should be pardoned if he is convicted of 'communigating, transmitting and delivering national defence information to an unauthorised source'.
This House would allow all women, and women only, to bear arms.
This House would  offer the Taliban power-sharing deals in exchance for acts of disarmament.
This House believes that developing nations should distribute as a dividend to citizens all income derived from natural resource extraction.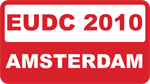 Die European Universities Debating Championships (EUDC) 2010 werden von 12. bis 17. Juli in Amsterdam ausgetragen. Das Turnier steht unter dem Motto "Spread the love". Die Debattierthemen und viel mehr Infos rund um das Turnier gibt es laufend bei Twitter unter dem Hashtag #EUDC. Die Tweets laufen auch hier im Magazin auf der rechten Seite ein. Außerdem berichtet das Achte-Minute-Magazin natürlich – also schaut hier regelmäßig vorbei!