EUDC talk: Gabor Stefan and David Lamouroux do not need physics arguments
In the interview series "EUDC talk" we met David Lamouroux and Gabor Stefan of Debattierclub Georgia Augusta Göttingen. They told us about the EUDC break, teamplay and debating addiction.
Achte Minute: Hello David, hello Gabor! You've broken to ESL quarter finals. Congratulations for that, first of all.
Gabor: Thank you! I was totally surprised that it worked out so well.
Achte Minute: Gabor, this was your first EUDC participation. You're already well known on the German circuit. What was it that surprised you the most on the international circuit?
Gabor: I've already been to the Durham Open three weeks ago and last weekend to the Tilbury House Summer Open in Cologne. Especially the anglo-saxons exhibit an astonishingly high level of debating. It's just fantastic to participate.
Achte Minute: David, how was it for you to compete with Gabor? Are his English skills acceptable?
David: Of course they are! What else could I possibly say? Eventually his future employer could google this.
Achte Minute: Concerning employers! What are you actually doing when you're not debating?
David: I'm doing my PhD in Physics.
Gabor: And I'm just finishing my Bachelor of Philosophy while waiting for a place to start the practical part of my law studies.
Achte Minute: Did the fact that you're coming from absolutely different academic fields benefit you as a team?
Gabor: In my entire life, I've never heard a physics argument from David. Instead he is continuously trespassing into my field.
Achte Minute: Well, what is then that makes you unique as a team?
Gabor: David is just a very clever guy and has a good sense of the debate.
David: Gabor's combination of Law and Philosophy is optimal: He can argue logically as well as he can answer very fundamental moral questions.
Achte Minute: The tournament ended in the ESL quarter finals for you. What is your next goal?
David: I want to establish English debating as a second pillar beside German debating in Göttingen.
Gabor: I want to focus on my academic career now. As after every tournament, I plan to devote less of my time to debating – but probably I will change my mind again, anyway.
Achte Minute: Love?
Gabor: Addiction!
Achte Minute: Well, then we won't wish you to get well.
Gabor: Thumbs up!
Achte Minute: Thank you for the interview and all the best for the future!
David: Thank you!
Achte Minute invites you to get to know some participants of the European Universities Debating Championship 2010. Therefore, during the EUDC-days we had the series of interviews "EUDC talk". Here we get in contact with debaters from all over Europe – whether participating as adjudicators, speakers or organisers.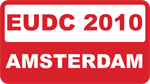 Die European Universities Debating Championships (EUDC) 2010 were held in Amsterdam from July 12 to July 17. The tournament's slogan was "Spread the love". Stay tuned – there'll be more reports these days.