A Review on Istanbul 2010 International Debating Championship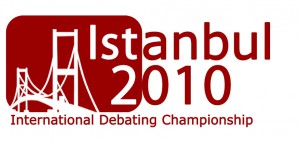 Debaters from England, Germany, Latvia, Greece and Turkey met on the Koc University (KU) campus for the Istanbul 2010 International Debating Championship. The tournament was the first hosted by the university after it ran what was probably the best World Universities Debating Championship ever in Antalya last December and is a revival of the series of open tournaments the KU Debate Club ran since 2004, proving that the locals simply haven't had enough of running excellent competitions after hosting both Worlds and Euros within three years.
Those that visited the campus in 2007 may remember the splendid dormitory accommodation it offers to its guests, as well as the fantastic facilities which now include a swimming pool and other sports facilities, a student center with a 24/7 food outlet plus whatever you may need during your stay (a super market that sadly doesn't sell cigarettes any more for some odd reason, a bank, memorabilia stores and so on). The competition's organizing committee who as always ran a punctual and well-fed tournament (with more than enough alcohol to go around) was led by Can Talaz and Cem Hot as co-conveners, joined by Güncem Seray Kuzu who was the chief organizer.
The tournament attracted 20 teams, given that unfortunately it conflicted with the exam periods in many Balkan countries. Despite that, there were a lot of quality debates on the motions set by the CA-team, which consisted of Jonathan Leader Maynard, European champion, DCA of Amsterdam EUDC 2010 and two times Worlds finalist, Simone van Elk, WUDC and EUDC ESL Finalist and DCA for Galway EUDC 2011, and Hugh Burns, EUDC finalist. They were joined in judging by Can Okar, CA of WUDC 2010 and EUDC 2007, EUDC champion and WUDC semi-finalist, and Will Jones, WUDC and EUDC champion and DCA of WUDC 2010 and EUDC 2007. The five of them formed one of the best adjudication panels for a final of an open debating tournament this year.
The final was contested between Galatasaray The Gardeners (Engin Arıkan and Onercan Kiliç), Koç No (Ozan Mert Ondes and Akin Emegen), York B (Nathan Paulson and Mark Schofield) and Koç Astral (Berkay Ozludil and Faruk Aktay). In the end, Galatasaray won the final from first prop, while Engin Arıkan won the Best Speaker award with an average of 80,33 speaker points per round. The German circuit was represented through Matthias Hamann from Potsdam who teamed up with KoçUniversity's Camellia Elerman.
Some people may remember of course that Engin was also in the first prop for the EUDC ESL final, on an extremely similar motion.
The motions of the tournament were:
Round 1: This House believes that states should not fund national sport teams.
Round 2: This House would make development aid to overcrowded countries conditional to population control measures.
Round 3: This House believes that international law should prohibit the use of unmanned fighting vehicles.
Round 4: This House would not allow corporations to sue libel or slander.
Round 5: This House would ban its citizens from visiting countries with dictatorial or repressive regimes whose economies depend on tourism.
Round 6: This House would pay religious organizations or individuals to convert people in areas of social deprivation.
Semi: This House would make TV and radio stations legitimate military targets.
Final: This House would abandon fixed-term sentences and would instead release prisoners upon rehabilitation.
The tab of the tournament is already available online.
Manos Moschopoulos / glx /apf