WODC 2011: Become an online debate champion!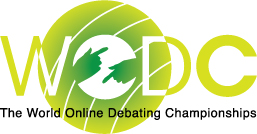 Why jet around the planet in real life when there is an easier and less expensive possibility of becoming an online debate champion? For the third time in a row the World Online Debating Championships (WODC) are to be held, well, yes: online! The team cap is 32, so you better register sooner rather than later. And yes, of course you register online on the websites of WODC. Registration fees are 20 US-Dollars per person, but not more than 100 Dollars per team. A team is made up of two to five debaters. Only one team is accepted per nation. From July this year pairings and motions will be announced.
And this is how a typical WODC debate looks like:
Monday, 12 a.m.: Motion will be announced, the proposition makes their case.
Tuesday, 12 a.m.: Motion and arguments of proposition announced to opposition, the again make their case.
Wednesday, 12 a.m.: Proposition responds to opposition, adding new arguments.
Thursday, 12 a.m.: Again, the oppositional team responds, adding new arguments for their side.
Friday, 12 a.m.: Both factions conclude.
Saturday, 12 a.m.: Judging begins. Two of the judges are experienced judges who broke at Worlds. In past years, among them were  Andy Hume (WUDC winner 1997), Can Okar (chief adjudicator Worlds 2010), Colm Flynn (former chair of the WUDC Council) and Jonathan Leader Maynard (EUDC winner 2009).
The winning team breaks to the next round.
All dates are Greenwich Mean Time (GMT), i.e. 12 a.m. GMT is 1 p.m. in Germany.
Motions of past World Online Debating Championships read:
The EU should impose a special Europe-wide tax on meat consumption to help save the planet.
All evidence gathered by intelligence agencies should be admissible in courts of law.
Pre-nuptial agreements should not be recognised in divorce courts.
Heavy drinkers should be denied liver transplants.
Those interested may read complete debates of WODC 2009 online on the homepage of debatewise. There you may also find more information. In 2009, the Czech team (proposition) defeated New Zealand (opposition) in the final and is now World Online Debating Champion.
apf / glx