Monash Debating Review: Call for applications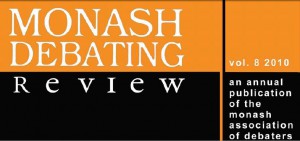 The Monash Debating Review (MDR) calls itself the world's only international debating journal and is currently looking for co-editors to support Doug Cochran, editor-in-chief, with the upcoming issue. Doug explains it is "a great opportunity for experienced debaters, adjudicators, and coaches" to help "shaping the global debating community's thinking about the activity we love." He is looking forward to welcome three to four associate editors in his team.
The Monash Association of Debaters (MAD), founded in 1962 and among the top ten of the world's best debating societies, has been publishing the Monash Debating Review (MDR) since 2002. The Review offers a unique forum for debate related issues of all kinds. Therefore, the international editorial team relies on the opinion and expertise of some of the best debaters of the world who approach debating issues from various multi-disciplinary perspectives. In the most recent issue, published at the end of 2010, the editors gathered six essays from seven authors on 62 pages. The Monash Debating Review is ready for download on the website of the MAD.
You need not necessarily be from Down under to apply for the position of associate editors. Candidates shall
encourage the submission of manuscripts from the worldwide
debating community;
analyse and critically evaluate each submission;
proofread and edit submitted articles; and
report regularly to the Editor-in-Chief.
Applications will be judged based on the best combination of
Previous editorial and/or publication experience;
Debating and/or adjudicating experience; and
A brief covering letter detailing ability to effectively fulfill the
position's responsibilities.
The Associate Editor role is a volunteer position and will not be compensated. Hurry up: The deadline for submitting application is June 30. Please mail your applications to Kiran Iyer (monash [dot] debaters [dot] sponsorship [at] gmail [dot] com) and Doug Cochran (kdc24 [at] cam [dot] ac [dot] uk).