WUDC 2013: Invitations for supporters to the grand final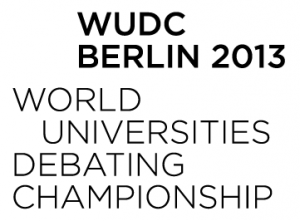 Please read the German version of this piece to learn more on how to get supporters of your debating societies invited to the grand final of the World Universities Debating Championship (WUDC or Worlds) in Berlin.
The Berlin Debating Union was chosen to hold the World Universities Debating Championships (WUDC or Worlds) in Botsuana 2011 and was confirmed again in Manila 2012. Estimated 1400 debaters from about 70 countries will fight for the title of the World Champion from 27th of December 2012 to 4th of January 2013. The World Universities Debating Championship is taking place yearly around New Year's Eve, and since 1996 in British Parliamentary.