Lund IV 2014
The Lund Debate Society invites debaters to Sweden for its Lund IV 2014. The tournament will feature five preliminary rounds and a break into quarterfinals as well as a novice final. The organisers advertise the competition via the Facebook event, highlighting the 4-star hotel accommodation, the breakfast buffet, and the fact that the out rounds will take place in the hotel.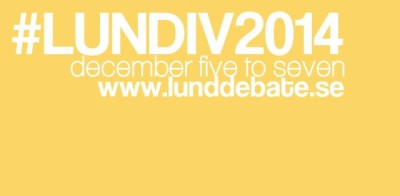 The Chief Adjudicators (CAs) of Lund IV will be a team of four debaters:
Ashish Kumar was champion of the European University Debating Championships (EUDC) in 2013 and Deputy Chief Adjudicator (DCA) of Zagreb EUDC 2014.
Madeline Schultz won the Australasian Intervarsity Debating Championships (Australs) in 2012 and was DCA of this year's Australs. She will also serve as DCA for the World University Debating Championships (WUDC) in Malaysia at the end of this year.
DCA Peer Klüßendorf was EUDC champion in the category English as a Second Language (ESL) and ESL finalist at the WUDC in Chennai. He will also hold a debating workshop in the first evening of Lund IV.
DCA Christine Simpson reached the EUDC final once and the WUDC final twice. Next year, she will be CA of Vienna EUDC.
Participants must register via a Google doc; the registration fee is 650 Swedish Krona or about 71 Euros. There will be a number of social events, including "Fika", a traditional Swedish coffee break. On Saturday night, participants will get a traditional three course dinner alongside the break announcements at Lund's AF castle. According to the organizers, formal attire is expected.
In the days preceding the tournament, Lund debating society welcomes everyone to the Lund IV 2014 Week. There will be a public debate and the society's debate training that participants can attend, as well as the Nordic Debate Council meeting discussing the development of debating circuits in the region. The organizers will also give a tour of Lund and recommend visiting Copenhagen. Limited spots for crash accommodation are available on request. To attend the Lund IV 2014 Week, fill out this Google doc.
Information in a nutshell:
Date: December 5-7
Format: British Parliamentary Style (BPS)
Rounds: Five preliminary rounds; break into quarterfinals; novice final
CAs: Ashish Kumar, Madeline Schultz, Peer Klüßendorf (DCA), Christine Simpson (DCA)
Tab Engineer: Richard Coates
Team cap: 60
Judge rule: n-1
Accommodation: Elite 4 star-hotel; limited crash spots for Lund IV Week available
Registration Fee: 650 Swedish Krona per person (approximately €71)
hug/ama