Team spirit, bureaucracy, and the prospect of an amazing party: An interview with Stefan Zweiker, convenor of Vienna EUDC
The preparations for the European Universities Debating Championship (EUDC) 2015 in Vienna are in full swing. Stefan Zweiker convenes the event, which will host 800 participants in Austria's capital. Press representative of Debattierklub Wien (DKWien) Damita Pressl conducted a short interview.
Stefan, how is the organisation going at the moment? What details have been confirmed so far?
For one thing, we have a key organisation committee, meaning that up to this point, we had around 20 people completing most tasks. That number is now set to grow, and I would guess around another 20 people are going to join us and take on additional tasks, especially since the workload is growing rapidly at the moment.
In terms of the project, we're exactly where we said we wanted to be at this point. Our budget has been finalised, we have a good overview of the program on each of the tournament days, and several contracts have been signed and taken care of. The main thing left now is to figure out the details of how to handle 800 participants during the actual tournament week.
What have been the biggest successes so far, what are you most proud of?
One thing that really fills me with pride is having such a motivated team of 20 people who show up to meetings, do their work, give it a hundred percent and stay fully motivated the entire time. I think the team spirit is right where it needs to be and that's the most important thing, because at the end of the day, the only way we can cope with the organisational effort involved in such a huge project is if we have the necessary manpower.
What has been the biggest challenge so far?
The biggest challenge so far is definitely figuring out the legal details of the project. Because it is so big, there are a large number of regulations, imposed both by corporate laws and by individual event locations. Dealing with that amount of bureaucracy is challenging, especially since we're not used to doing that. Our smaller tournaments were at a size where they remained below the cut-off values relevant for certain laws and so we didn't have to deal with very many legal regulations. EUDC is so big that there won't be a way around that, and that is a lot of work at the moment.
Another challenge is the communication with partners, which is often a bit long-winded. It can take a while for emails to be answered and contracts to be finalized, and because we're missing feedback, the organisation committee faces quite some uncertainty.
As the convenor, which moment, which event, or which part of the tournament are you most looking forward to?
That would definitely be the final dinner, not just because the stress will be over at that point, but also because it will be an amazing party.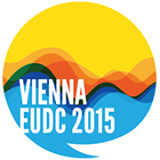 If you had to give the next EUDC hosts a single piece of advice, what would that be?
Wow, that's difficult. Of course I think having a plan and a realistic budget and all these things is important. But I think the most important thing is knowing what you want to achieve and what your goals are. We're having a rather easy time facing our workload at the moment because we're raising a lot of awareness for debating in Austria through the project. There's this idealistic idea of strengthening debate culture in Austria behind it. Vienna EUDC is making the general public aware of us and allowing us to build up a network of contacts.
This will ultimately affect every member of DKWien positively, and it's really important motivation both for me as a convenor and for the organisational team as a whole. So as a potential host, you should first think about whether taking that step really makes sense for you. Being altruistic, hosting a great tournament for the debating community, or improving your society's reputation are all great, but I don't think they're enough as sole motivation. You really have to be clear about the benefits and the motives behind hosting the tournament from the start. Otherwise, staying motivated is likely to prove difficult.
 Damita Pressl/hug
 The Mittwochs-Feature: every Wednesday at 10 am, the "Wednesday Feature" introduces an idea, a debate, a book or a person. If you want to kick off a debate, send us your proposal via email at team [at] achteminute [dot] de.

Damita Pressl conducted the interview. She has been a member of DKWien for one year. In February 2014, she made the novice break at Leiden Open. As secretary and press representative, she is currently a board member of the society and part of the communications team for Vienna EUDC. Outside of debateland, she is studying translation and working as a language teacher.