Helsinki Open 2015
After the Nordic Debating Championship in 2013 and the first Helsinki Open last year, the debating societies from Aalto University (ADS) and Helsinki University (HDS) invite debaters in the Far North: to the second Helsinki Open on May 9 and 10, 2015 – one of the Northernmost debating tournaments. The organizers are confident to present a wonderful, not-so-cold event featuring five preliminary rounds with a break into semi-finals as well as socials including traditional Finnish sauna. The tournament will be on Saturday and Sunday, but there will be a social on Friday night. A Google Doc for registration is already online.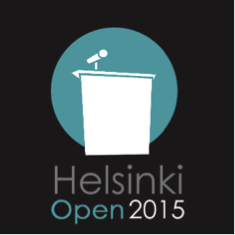 As a Chief Adjudicator, there will be Emilia Carlqvist, EUDC champion in 2013 in the category English as a Second Language (ESL) and ESL finalist at the WUDC in Chennai and EUDC in Zagreb in 2014 and Chief Adjudicator of countless tournaments.
Important information in a nutshell:
Date: May 9 and 10, 2015 (social and accommodation on Friday night May 8)
Host: ADS and HDS
Conveners: Alf Pärvi and Martijn Roo
Chief Adjudicators: Emilia Carlqvist, tba.
Rounds: Five preliminary rounds, break to the semis (7 min speeches)
Team cap: 32
Judge rule: n-1 rule for Scandinavian and Baltic teams, n-2 for others
Registration fee: 40€ for speakers, 35€ for judges, accommodation Fri-Sun 25€
More information is available on Facebook on the tournament's page and event.To contact the conveners, write a mail to helsinkiopendebating [at] gmail [dot] com.
ama – last update on March 27 2015, 8.15 pm