Duke University wins VITDT Round Robin 2020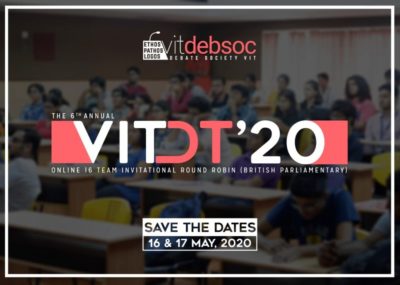 The team Idli and Sambar (Salil Mitra, Nitin Subramanian; Duke) has won the Grand Final of the VIT Debating Tournament Round Robin 2020 from Closing Government. They debated the motion "This House Believes That Imran Khan should pivot away from China, and towards India" against the other finalists Seamus and Oliver (Oliver Cummins, Seamus Dove; Sydney) in Opening Government; Liminal Spaces Debating (Samuel Scheuer, Braedon Lehman; Tübingen/Berlin); and MISRIT OO (Daniel Monteiro, Atul RH). The Grand Final was judged by Vishaka Raj, Shantanu Bariar, Abhilaksh Sharma, Yash Varshan Thirani, Omkar Masurkar, and Bansal Kartik, with Reed chairing.
The top speaker of the tournament was Oliver Cummins, with an average of 81.8 points.
Speaker Awards:
1. Oliver Cummins, Oliver and Seamus, 81.8 avg
2. Seamus Dove, Oliver and Seamus, 81 avg
3. Braedon Lehman, Liminal Spaces Debating, 80 avg
3. Samuel Scheuer, Liminal Spaces Debating, 80 avg
5. Atul RH, MISRIT OO, 79.6 avg
The tournament was a competitive application invitational Round Robin format and was organized by the VIT Debating Society, with an organizing committee of Sashank Raj, Aviral Bhatia, Aditya Srinivasan, Ritika Katyal, and Kartavya  Asthana. While the Tab is linked here, an adapted speaker scale was used, which can be found below the motions. The tab team consisted of Aviral Bhatia, Chesta Behl, Muskan Sengar. The equity panel was comprised of Aditya Srinivasan, Ritika Kayal, and Yash Chaturvedi. The Adjudication Core members were Brian Wong,Vishaka Raj, Hadar Goldberg, Shantanu Bariar, Abhilaksh Sharma, and Yash Varshan Thirani.
The motions:
R1: Infoslide: Petting zoos are zoos where patrons are allowed to touch and interact with wild animals, such as tigers. Examples of such facilities iclude Doc Antie's Myrtle Beach Safari, and Dolphin Petting at Sea World.
Petting facilities often breed animals to ensure that there is a constant supply of animals to pet. 

This House Would ban the breeding of wild animals for petting programs at zoos

R2: Infoslide:Chris Benoit is one of the best in-ring wrestlers to have ever existed. He had an outstandingly successful career with the WWE (winner of 22 championships), and was considered a model pro for wrestlers, until he committed a double murder-suicide in 2007, killing his wife and son, along with himself.
No motive has clearly been established, but what is undisputed, is that thanks to the grind WWE put him through (chair shots to the head, risky head-first dives etc), his brain had advanced CTE (A disease that impairs thinking, and causes behavioral and mood problems- commonly seen among athletes from contact sports like wrestling, boxing, rugby, American football), with some terming it to resemble "the brain of an 80 year old with Alzheimer's".
By all accounts, Benoit had not demonstrated any such violent tendencies prior to performing the stunts that led to the CTE. Till date, the WWE refuses to acknowledge Chris Benoit for the career he had, denies the records he holds, and cuts out any footage of his matches from their extensive archived footage. Pro Wrestling continues to be one of the most occupationally hazardous professions out there, and in recent years, the WWE has taken steps like the banning of hair shots to the head, to avoid concussions.
For the purpose of this debate, the WWE Hall of Fame is a list of individuals to which the WWE inducts peple with the most accomplishments in the WWE, either as wrestlers, trainers, managers, commentators, or announcers, to recognize and celebrate their careers.

This House, as the WWE, would recognize Chris Benoit's achievements and induct him into the Hall of Fame.

R4: Infoslide: In the last 3-4 weeks, US Federal Government and many state governments have relaxed the lockdown measures. Non-essential businesses like restaurants and salons have also been allowed to open up within these areas; with focus on social distancing measures like maintaining a distance of 6 feet and wearing PPEs.
Currently, only 22 states (New York, California, etc) are in a lockdown along with some cities with high number of COVID-19 cases (Hillsborough County in Florida, Philadelphia in Pennsylvania etc).

This House Supports the US Federal/State governments' re-opening of their economies

R4: In countries with conscription, This House Believes That it is morally legitimate to evade draft

R5: Infoslide: When a country borrows from the International Monetary Fund (IMF), its government agrees to adjust its economic policies to overcome problems that led it to seek financial assistance. These conditions may include implementing austerity measures, raising taxes, opening of markets, and the the removal of certain subsidies. These policy changes are conditions for availing IMF loans.

This House Believes That the IMF should significantly relax conditions on loans to African countries

F: This House Believes That Imran Khan should pivot away from China and towards India.
The used speaker scale