Gutenberg-Cup 2010 Pickings 1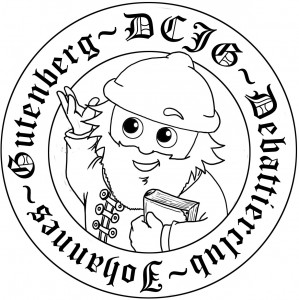 The Gutenberg Cup 2010 tab is online, and the first credits of the free debating league (FDL) are listed. Thus, first pickings on the competition hosted by the Debattierclub Johannes Gutenberg Mainz (DCJG) are presented here.
The Tab of the Gutenberg Cup 2010 is available on DCJG's. It was already after the preliminary rounds that Tübingen's team Streitkultur Dionysos was a probable candidate for the title of "Master of the Jokes".
A first ranking after FDL's opening competition can be found on the league's website. Now, Streitkultur Tübingen is at the top of the new hit list followed by DCJG Mainz. Upcoming FDL competitions are Potsdam in early November and the Baden-Württemberg championship, an open championship staged in Heidelberg in November.
glx / apf