STUSS in Mainz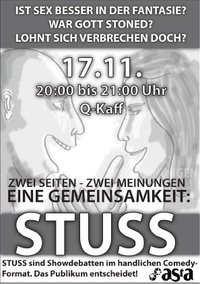 Stuss stands for nonsense: The first show debate in the comedy format STUSS will be held on 17 November at 8 p.m. at Kulturcafé on the campus of the University of Mainz. STUSS is an acronym and stands for "Stramme Thesen und studentischer Streit", but stuss itself means "nonsense", which is way more important, explains Thore Woijke, one of the founders of STUSS. He and Nicolas Eberle, Marcus Ewald, Carsten Knittler and Clemens Fucker will be performing next Wednesday.
STUSS consists of some short debates with teams of two on each side. Speeches should be between three and six minutes. One evening covers a fistful of these short debates. The format is meant to be anarchic. The audience is invited to break in and offer points and information. After each debate, the audience decides which side won. Although the audience can also suggest motions spontaneously, some motions are already set:
Is crime worthwhile after all?
Is sex better in fantasy?
Was God stoned?
Do old people deserve more respect?
Binge drinking is completely fine.
The format is meant to link the art of clean argumentation to the art of accurate punchlines. These are the only criteria certain – because above all is the interest of the teams to win the favour of the audience. To achieve that goal, all means are justified as long as the criminal code does not exclude them. Admission to the event is free.
glx / apf