CAs for German Debating Championship 2011 announced

The Debating Club Heidelberg announced the German Debating Championship's complete CA team.  Former VDCH-president and Western German Champion of 2008 Tim Richter from the Debattierclub Bonn will join the already announced Chief adjudicators Gudrun Lux (Debattierclub Bonn), Jan Lüken (WFI Debattierclub Ingolstadt) and Marcus Ewald (DCJG Mainz).
The German debating Championship will be staged in Heidelberg from 9 to 12 June 2011. Format will be OPD, the open parliamentary debate widely spread in the German speaking debating circuit. The Debating Club Heidelberg, then German debating champion in 2004, will now be host to Germany's largest tournament.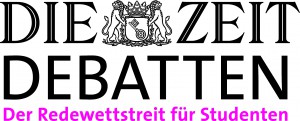 The ZEIT DEBATTEN series is convened by VDCH in cooperation with the weekly newspaper DIE ZEIT and Deutsche Telekom, supported through VDCH's media partner ZDF, a German public broadcaster. It has been a decade now since the first ZEIT DEBATTEN series kicked off with at least five annual tournaments, among them the German debating championship. The series is nested under the honorary patronage of the former German chancellor Helmut Schmidt.
sol / apf