Cheese buffet, a new circuit and time traveller debates – Andreas Lazar on the Paris IV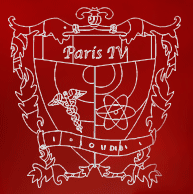 Paris is very, very beautiful. Plus, it is the political, economic and social center of the French nation. It is de facto impossible to get the full impression in just one weekend. But the convenors of Louisa Leila Zhang's team helped us get a good first glimpse on the first weekend of April. The about 150 participants of the Paris IV were offered hospitality and French cuisine, impressive technology and the art of partying plus a city tour – and all that in just under 45 hours. The debaters – from the Wordls finalist John Ashbourne from the London School of Economics to newbies like Margaux Serey from the the University Paris V-René Descartes – all showed their gratitude with good mood, their partying and great debates.
Prelims started Friday night in the rooms of Telécom ParisTech in the 13th Arrondissement. The chief adjudicators (CA), Ben Woolgar from Oxford and Maja Cimerman from Ljubljana, came up with new and challenging motions, starting with "This house would ban public sector strikes in times of high government debt". From opening government, my team mate Sven Moritz Hein and I emphasised the dangers of debts and why such a state of emergency justifies to limit strikes so that the administration may be functional and to reduce debts. After that, we enjoyed an exuberant buffet wine and cheese that even convinced the most ascetic debater of the French savoir vivre. But experience taught us to restrict oneself to one glass of wine only so that we could still be ready for round 2 where we had to debate the motion "This house believes that France should open its borders to any migrant from one of its former colonies", this time as opening opposition. We used a good mixture of conventional and clever arguments against immigration and won the debate.
While waiting for the judges' feedback we talked to French debaters like Mélissa Large who shared with us that the French debating circuit is quite new – the French debaters' idea behind the Paris IV or Sciences Po IV (coming in May) is to network, gather some expertise and have international debaters share that with them. During the Friday night party (free beer!) there was a lot of opportunities to network – or at the crash where at various places up to nine students were crammed into one dorm room.
Coffee and a croissant for breakfast before we went on to the third round with the motion "This house supports the establishment of 'Harvey Milk Schools' in Europe." The Harvey Milk in New York City is an institution open for lesbian, gay, bi- and transsexual girls and boys where they will find a tolerant and harassment-free environment. Before lunch, we also mastered round 4 "This house would use partition to solve civil wars in divided societies" and after lunch the fifth round: "This house believes that it is immoral to donate to animal charities whilst humans are dying of poverty".
An all too often too true cliché about debaters goes that they read books and magazines only to find more arguments and strategies for their next debate. Next to the compulsory latest issue of "The Economist" you will most probably find "Practical Ethics", the standard opus by the utilitarian philosopher Peter Singer. But it is also true that it helps to get through the jungle of a debate with its clarity and concise examples so that you may finally win the room from closing opp – even when you sit in front of the World champion Chris Croke (WUDC 2010). Finally, I managed to fulfill my longtime wish to quote from "Moby Dick": "'Forehead to forehead I meet thee, this third time, Moby Dick!' – Unfortunately, unlike the white whale, most animals can't help themselves against being hunted, so we have to …"
56 teams, a break to semis and at the same time the direct break to the ESL final made it a nail-biter for almost everybody until the end of the last prelim – did we gain enough points to make it to the break? In the end, Marcus Ewald and Marietta Gädeke from Mainz were the ones happy to break to semis (main break) where unfortunately they were defeated with the motion "This house believes that Israel should abolish conscription". In the ESL final, three teams from under the umbrella of VDCH competed, plus a French team: Berlin Pariser Platz (Juliane Mendelsohn and Bastian Laubner, opening gov), Berlin Pariser Kommune (Dessislava Kirova and Kai Dittmann, opening opp), Assas I'm With Stupid (Feng Cai and Auxonne De Viel Castel, closing gov) and we from Stuttgart in closing opp. The motion read "As the editor of Jyllands-Posten in September 2005, this house would not have published the 'Mohammed Cartoons'".
Such motions were you have to travel through time and space have become extremely popular since this year's Leeds IV in March where they had motions as in "You are an Atheist. This house would never commit an act of blasphemy". In usual debates , "this house" acts as a responsible agent – with these new motions your goals are different when you're a parent preventing their children from becoming a child star or where you are a Danish editor. As such, you may well be egotistic. Well, in theory that's clear – but in the debate, we had our difficulties with this approach in the second half after a brilliant Berlin upper half of the table (where admittedly the motion debated was more or less like "This house would not have published the 'Mohammed Cartoons'"). In the end, Juliane and Bastian won.
The motion of the main break final read "This house believes that a woman who wears high heels is no more free than one who wears the burqa", where a British-Irish mixed team, Utrecht and the LSE competed. After all, Png Zhiheng and John Ashbourne (LSE) defeated the others from closing opp. The hangover following the break night party was really huge, but it still could not change my impression that the Paris IV should become a fix date in every debater's calendar.
Andreas Lazar / apf