Save the date: EurOpen in November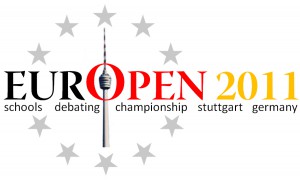 First info on the EurOpen released: David Whitehead told Achte Minute details on the tournament held annually in and around Stuttgart. This year, it will be staged from November 6 to 11, with arrivals on 5th. Costs for the schools debating competition will be around 180 Euros for teams from outside the Stuttgart region, including a full weeks accommodation and all transportation for the week. "The price might drop when we find sponsors", David promised. Fees for the local teams are not fixed yet. VDCH judges are more than welcome, so save the date for judging in Stuttgart in early November!
Teams from Canada, South Korea, Russia, Israel, Czech Republic and Sweden, as well as from Greece, Lithuania and Finland have already made enquiries about the tournament, David revealed to Achte Minute. "Foreign teams just seem to like coming!", he assumes. David is chair of the Debating Society Germany (DSG), the umbrella association of the German English language schools debating circuit. He appeals to schools:  "This competition is German debating's chance to open its arms to the world and EurOpen 2011 promises to be bigger than 2010 – which was the biggest thing we'd ever done – and we need host schools for this", he pleads.
The EurOpen, formerly known as European Debating Week, will take place in Stuttgart for the 15th time in a row. Teams from all continents are expected in Baden-Württemberg. The language of competition will be English, the tournament will be held in the format of World Schools Debate. Teams of three compete, one on each side, pro and con. Contrary to university debating, the motions are known before the event starts. The competition allures to students from all over the world, participants must be under twenty. More details on the event and on schools debating is available on the EurOpen website and via info [at] schoolsdebate [dot] de.