WUDC 2013: The Break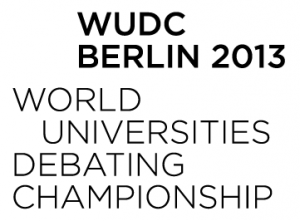 It took until after midnight that the WUDC 2013 break coul be announced in Berlin. The CA-team took its time to sort out which 100 (!) judges broke into the break knockout rounds. Especially, they had to handel the new 48-team break for the first time which lets 16 teams break into octo-finals directly and sends 32 more teams into mock-octos (read here what that is).
In the following we provide you the breaks and tab positions at WUDC 2012 after the nine preliminary rounds. Note that due to the WUDC constitution, unlike as at Euros, there is no double break. Thus, the two ESL teams that broke in the open break to not break in "their" language category as for the two EFL teams that made it into the ESL break. As we here, this issue was discussed in council today but a proposal from the Netherlands to change this and allow for a double break did not find a majority.
Open Break
Open
ESL
Team
Points
.
1
ULU A
24
Pam Cohn
Catherine Murphy
.
2
Sydney B
22
Paul Karp
Dominic Bowes
.
3
UCD L&H A
22
Christine Simpson
Mark Haughton
.
4
Cambridge A
22
Rebecca Meredith
Ashish Kumar
.
5
Sydney A
21
Daniel Swain
Elle Jones
.
6
Auckland A
21
Ben Milsom
Stephanie Thompson
.
7
Queensland A
21
Kristen Price
Anthony Smith
.
8
Monash A
20
Chris Bisset
Madeline Schultz
.
9
Oxford A
20
Clive Eley
Nathaniel Ware
.
10
Melbourne A
20
Daniel Golder
Tim Blair
.
11
Aberystwyth A
20
Ollie Newlan
Roberto Sarrionandia
.
12
St Andrews A
20
Ben Adams
Alex Don
.
13
Witwatersrand A
20
Michael Macklin
Christopher Wood
.
14
NU Singapore A
20
Robin Teo
Imran Rahim
.
15
1
IIU Malaysia A
20
Syed Saddiq Syed Abdul Rahman
Arinah Najwa Ahmad Said
.
16
Wellington A
19
Richard D'Ath
Seb Templeton
.
17
Yale B
19
Michael Barton
Andrew Connery
.
18
Harvard A
19
Josh Zoffer
Coulter King
.
19
Oxford B
19
Matthew Handley
Natasha Rachman
.
20
Durham A
19
Benjamin Dory
Simon Tunnicliffe
.
21
Harvard C
19
Martin Kiik
Ben Sprung-Keyser
.
22
Yale C
19
Sesenu Woldemariam
Zach Bakal
.
23
Cambridge B
19
Freddy Powell
Jei Wei
.
24
Otago A
19
Alec Dawson
Kieran Bunn
.
25
Otago B
19
John Brinsley-Pirie
Kurt Purdon
.
26
New South Wales B
19
Angela Kintominas
Ben Williams
.
27
Harvard B
19
Julia Clark
William Ryan
.
28
Yale A
18
Maxwell Dovala
Ben Kornfeld
.
29
McGill A
18
Emma O' Rourke Friel
Sarah Balakrishnan
.
30
TCD Phil A
18
John Engle
Adam Noonan
.
31
UCD L&H B
18
Michael O'Dwyer
Hannah Lucey
.
32
Queensland C
18
Helena Obermair
Thomas Ashby
.
33
Stanford A
18
Andrew Suciu
Emma Pierson
.
34
Queensland B
18
Emily Chalk
Alex O'Hara
.
35
Queen's University A
18
William Gibson
Kaya Ellis
.
36
Griffith A
18
Jessica Musulin
Josh Taylor
.
37
UCC Phil A
18
Barry O'Gorman
Gearóid Wrixon
.
38
Monash C
18
Stephen Moore
Nicole Franklin
.
39
Bristol A
18
Alice Coombes-Huntley
Imogen Parkes
.
40
New South Wales C
18
Pramudie Gunaratne
Justin Chan
.
41
Princeton A
18
Matthew Arons
Daniel Lewis
.
42
UBC A
18
Kaja Marinic
Vivian Dong
.
43
LSE A
18
Yuan Yang
Jonathan Kay
.
44
Glasgow B
18
Graeme Cowie
Duncan Crowe
.
45
Bates A
18
Ben Smith
Catherine Djang
.
46
Otago C
18
Paul Hunt
Alice Sowry
.
47
2
Galatasaray A
18
Engin Arıkan
Akın Egemen
.
48
Monash B
17
Nita Rao
James Beavis
ESL Break
ESL
EFL
Team
Points
.
1
Leiden A
17
Daan Welling
Karin Merckens
.
2
Leiden C
16
Rogier Baart
Senna Maatoug
.
3
Yonsei Underwood A
16
SungRyul Park
YoonJi Ko
.
4
RRIS A
16
Ben Gladnikoff
Alon van Dam
.
5
Tel Aviv A
16
Alon Cohen
Ro'ee Levy
.
6
Maastricht A
16
Caspar Kaiser
Eduardo Villamor Martinez
.
7
Belgrade B
15
Tijana Mijalkovic
Goran Jankuloski
.
8
DLSU A
15
Ira Gayll C. Zamudio
Mark Joseph D. Escay
.
9
BBU Romania A
15
Radu Cotarcea
Octav Buta
.
10
Tel Aviv B
15
Yael Bezalel
Oren Danieli
.
11
Roosevelt A
15
Bas Tonissen
Bionda Merckens
.
12
Erasmus B
15
Marco Voormolen
Jeroen Heun
.
13
BBU Romania B
15
Calin Muresanu
Ioana Stupariu
.
14
BRAC Bangladesh A
15
Ratib Mortuza Ali
Aaqib Farhan Hossain
.
15
1
Moscow IPT A
15
Ustinov Dmitry
Chekmarev Alexey
.
16
2
Zagreb A
15
Stella Braje
Nika Jelaska
EFL Break
EFL
Team
Points
.
1
Singidunum A
14
Dino Ibisbegovic
Marija Simic
.
2
Gadjah Mada A
14
Erwina Salsabila
Novelisa Wirid
.
3
Atma A
14
Cindy Fransisca Sutardi
Davin Susanto
.
4
Arts Belgrade A
14
Damjan Ilic
Predrag Tanackovic
.
5
Porto A
13
Tiago Vieira Laranjeiro
Ary Ferreira da Cunha
.
6
Belgrade A
13
Mladen Suleic
Viktor Prlja
.
7
Bauman A
13
Pavel Kaskuba
Anna Miritskaya
.
8
Belgrade C
13
Djordje Jovicevic
Stefan Milic
.
9

EKU Tübingen A

13
Nikos Bosse
Konrad Gütschow
.
10
Megatrend Belgrade A
13
Selena Torlakovic
Marija Maksimovic
.
11
Ss. Cyril and Methodius A
13
Lazar Pop Ivanov
Georgi Velkovski
.
12

ALU Freiburg A

13
Johannes Samlenski
Jannis Benedikt Limperg
.
13
Pristina A
13
Ardi Shatri
Erblin Hoxha
.
14
Tokyo A
13
Toshinari Ishikawa
Kuwa Inokuchi
.
15
Bucharest A
12
Radu Tiganas
Serban Pitic
.
16
Lund A
12
Emilia Carlquist
Anders Aldvin