Belgrade Open 2013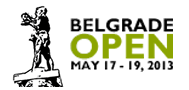 The Belgrad Open 2013 will take place in the Serbinan Capital on May 17th and 19th. The CA Team consist of CA Harish Natarajan, DCAs Seena Maatoug and Manos Moschopoulos, Regional DCA Črt Podlogar and Local DCA Goran Jankuloski.
The 11th installment of the Belgrade Open comes with 5 Rounds and a Break to Semis. The Reg fee is 50 EUR per PARTICIPANT, the Team-Cap is 64 Teams. The Registration opens on April 1st (no joking).
For more Information you can check out the website.
fpu