SSE Riga Debate Academy 2014
From May 30th to June 1st, the SSE Riga Debate Society and the non-governmental organisation QUO tu domā? will host the third Debate Academy. The Debate Academy aims at debaters from different countries who want to learn more about debating and improve their skills. It consists of seven workshops given in four rooms simultaneously to account for different levels of debating proficiency of the participants. Afterwards, a tournament with four rounds and a final will be organsised so that the debaters can apply what they have learned.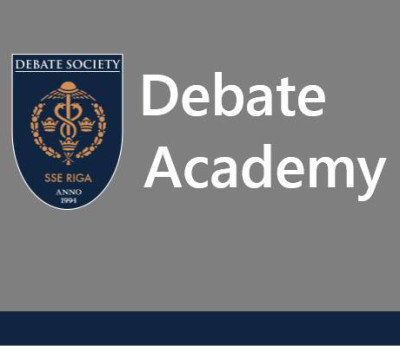 The trainers for the workshops will be Michael Shapira, Chief Adjudicator (CA) of the European Debating Championships (EUDC) 2015 in Vienna and 2011 world champion in the category English as a Second Language (ESL), Ben Gladnikoff, finalist of the World Universities Debating Championship (WUDC) 2013 in Berlin and EUDC finalist, and Anna Karolin, ESL-finalist of the EUDC 2012 in Belgrade and coach of many Estonian teams at international tournaments.
The participation fee is 45 Euros and includes food, accomodation in a hotel, snacks and drinks during the days as well as the entry to a party. Registration is open until the 1st of May. Registration has to be completed via a Google Doc. The payment is due until May 8th.
Further information can be obtained on the facebook page. For questions, please contact debate [at] sseriga [dot] edu or info [at] quotudoma [dot] lv.
Date: 30.05. – 01.06.2014
Location: Stockholm School of Economics, Riga
Reg Fee: 45 Euros per Person
Language: English
Host: SSE Riga Debate Society and QUO tu domā?
nbo/hug