Copenhagen Open 2015
The CBS Debating Society announced the second Copenhagen Open. The tournament takes place from the 27th to the 29th of March 2015 and will provide five preliminary rounds with seven minute speeches and a break to semifinals. The detailed schedule is available at the Facebook-Event.
There are going to be two Chief Adjudicators (CAs) and two Deputy Chief Adjudicators (DCAs):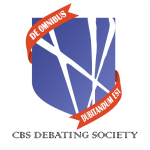 CA Dessislava Kirova, who served as DCA at Manchester European Universities Debating Championship (EUDC) 2013, Co-CA of the Pan-African University Debating Championship in Limpopo 2014 and is an English as a Second Language (ESL) Finalist of the Zagreb EUDC 2014, Finalist of the World Universities Debating Championship (WUDC) in 2012 and 2014, and also winning 2014 WUDC in the ESL-Category.
CA Michael Shapira is CA of EUDC Vienna 2015 and DCA of 2014 WUDC in Chennai and won the ESL title of WUDC 2011 as well as several other tournaments.
DCA Jorgis Marinos was a speaker for Denmark at the World School Debating Championships (WSDC) on 2012 and 2013 and Quarterfinalist of the European School Debating Championships (ESDC). He is the current president of CBS Debating Society and DCA at the Copenhagen Open 2014.
DCA Olle Reberg judged in the Final of the Lund IV 2014 and several other tournaments, including Zagreb EUDC 2014.
The registration fee is 700 Danish Krone (94€) with accommodation and 300 Danish Krone (34,50 €) without, both for speakers and judges. 
Copenhagen Open 2015 in a nutshell:
Date: 27th-29th of March
Rounds: Five, Semifinals
CA-Team: Dessislava Kirova, Michael Shapira, Jorgis Marinos, Olle Reberg
Team cap: 40 (n-1 rule applies)
Registration fee: 700 DKK (94€) with accomodation, 300 DKK (34,50€) without accommodation
 gni/ama