EUDC talk: Lukas Haffert all alone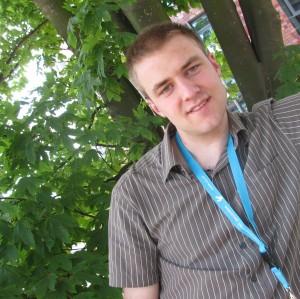 In the interview series  "EUDC talk" we met Lukas Haffert of the Swiss DebatingClub St. Gallen who told us about his first EUDC debate where he spoke twice.
Achte Minute: Hey Lukas, you held two speeches in your first round. How come?
Lukas: My team partner Viola Lutz was victim of the storm in  Northrhine-Westfalia (Germany) and only arrived after an epic journey  after round one. So I had to take over her part.
Achte Minute: Were they not able to provide a swing debater for you?
Lukas: It apparently is customary not to do that. To be fair, I like that.
Achte Minute: How did it feel announcing your own points for the second speech?
Lukas: I was Opening Opposition, where in general it is not that easy to develop a coherent  team line. I and myself got along great! However sharing points with the first speaker as the second has more time to write his speech was not possible.
Achte Minute: Speaking for14 minutes in one debate – dream or nightmare?
Lukas: Dream! When I first heard of an Iron-Man-Competition in the Netherlands, I thought that was ridiculous. Now, however, I would register for it.
Achte Minute: Does that mean you were sad when Viola finally arrived?
Lukas: What a question! I probably would have sent home any other team partner, but given Viola's struggle to get here in the first place, that would have been very unfair. No, honestly: I am very glad she is here.
Achte Minute: Can you still break? (after round 6)?
Lukas: Probably not. I won the first round, but unfortunately those three points do not count. Apparently Ironmanning has robbed all my energy, I really screwed my prime minister speech on Opening Prop.
Achte Minute: Too bad! Still, have fun for the rest of the tournament.
Lukas: Merci vielmol!
Achte Minute: Thank you!
Achte Minute invites you to get to know some participants of the European Universities Debating Championship 2010. Therefore, during the EUDC-days we'll have the series of interviews "EUDC talk". Here we get in contact with debaters from all over Europe – whether participating as adjudicators, speakers or organisers.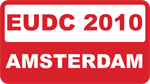 Die European Universities Debating Championships (EUDC) 2010 are held in Amsterdam from July 12 to July 17. The tournament's slogan is "Spread the love". The motions and amore infos around the tournament can be seen on Twitter, look for hashtag #EUDC.
glx / isa