Three VDCH teams break into Euros Quarters
At a glance: Main Break and ESL Break of Amsterdam EUDC 2010!
Teams from Greifswald, Göttingen and Köln are going to compete the quaters of Amsterdam EUDC 2010: Sarah Jaglitz and Rafael Heinisch (DC Greifswald), David Lamouroux and Gabor Stefan (DC Göttingen) and Bianca Sterly and Sebastian Hagemann (Tilbury House Köln). As adjudicator of "VDCH country" broke Alena Asyamova, Jens Fischer and Isabelle Loewe. Congrats!
Full ESL Break:
Erasmus A (Rotterdam, Jeroen Heun, Daniel Springer)
Kalliope A (Groningen, Steffy Roos du Maine, Floor de Koning)
Babes-Bolyai A (Cluj-Napoca/Klausenburg, Radu Cotarcea, Bianca Dragomir)
Ljubljana A (Maja Cimerman, Filip Muki Dobranic)
Greifswald A (Sarah Jaglitz, Rafael Heinisch)
Athens A (Manos Moschopoulos, Kimon Ioannides)
Haifa B (Michael Shapira, Meir Yarom)
Galatasaray A (Istanbul, Leyla Orak, Engin Arikan)
Göttingen A (David Lamouroux, Gabor Stefan)
Tilbury House A (Cologne, Bianca Sterly, Sebastian Hagemann)
Leiden A (Rogier Baart, David Muntslag)
Zagreb A (Branka Marusic, Lea Tafra)
Tel Aviv A (Ro'ee Levy, Oren Elisha)
Belgrade A (Milan Vignjevic, Marko Cirovic)
Galatasaray B (Istanbul, Burcu Yakici, Kerem Celikboya)
Belgrade C (Goran Jankuloski, Tijana Mijalkovic)
And here is the Main Break:
ULU B (London, Rosie Unwin, Fred Cowell)
Oxford A (Ben Woolgar, Thomas Hosking)
Cambridge A (Harish Natarajan, Jack Watson)
Kings Inn A (Dublin, Eoghan Casey, Patrick Rooney)
Manchester A (James Dixon, Sam Block)
TCD Phil B (Dublin, Jonathan Wyse, Doireann O'Byrne)
TCD Hist B (Dublin, Ruth Fallner, Catherine Murphy)
Erasmus A (Rotterdam, Jeroen Heun, Daniel Springer)
Birmingham A (Bryn Gough, Tim Lees)
Oxford D (Jen Coyne, Sebastian Farquhar)
UCD Law Soc C (Dublin, Mark Haughton, Dearbhla O'Gorman)
Haifa A (Leor Sapir, Hanneke Berman)
Oxford C (Vignesh Ashok, Emily Pearce)
Cambridge C (Charlotte Thomas, Natalie Smith)
Nottingham A (Thomas Jackson, James Torrance)
Oxford B (Hugh Burns, Neil Dewar)

The Verband der Debattierclubs an Hochschulen (VDCH), engl. Association of Debating Societies at Universities, is the umbrella organisation of debating clubs in germanspeaking countries and regions in Europe.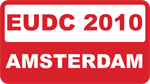 The European Universities Debating Championships (EUDC) 2010 are held in Amsterdam from July 12 to July 17. The tournament's slogan is "Spread the love". The motions and more infos around the tournament can be seen on Twitter, look for hashtag #EUDC.