ZEIT DEBATTE Greifswald 2010: Break to Semis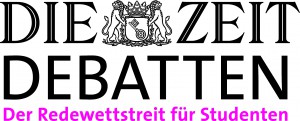 Hooray and boohoo: Just eight teams out of 24 had the chance to break at the ZEIT DEBATTEN series kick-off that opens the current season of 2010/2011. Here are the teams that compete for the break into finals on Sunday morning at Greifswald by the Baltic Sea. This is the break to semis:
1. Hanse Debating (Bremen, Manuel Adams, Lars Brückner) – 15 team points – 768 speaker points
2. Mainz Conni (Andrea Gau, Daniil Pakhomenko) – 12 – 773
3. Hallenser (Halle, Simeon Reusch, Thomas Wach) – 11 – 751
4. Berlin Peter Singer Knaben (Johannes Häger, Georg Sommerfeld) – 9 – 742
4. Jena die Untergeher (Friederike Meyer zu Wendischhoff, Jonathan Scholbach) – 9 – 742
6. Friede, Freude, Elbflorenz (Dresden, Alexander Labinsky, Gerhard Rahn) – 9 – 731
7. Federkiel (Kiel, Rauad Abagela, Julika Hofmann) – 9 – 725
8. Georgias (Göttingen, Tim Alexander Alten, Gregor Markgraf) – 9 – 724
The Top 10 speakers are:
1. Daniil Pakhomenko
2. Lars Brückner
3. Andrea Gau
4. Alexander Labinsky
5. Manuel Adams
6. Simeon Reusch
7. Wladislaw Jachtschenko (Munich Sisters)
8. Marco Witzmann (Munich Sisters)
8. Marion Seiche (Frankfurt – Ein Vorspiel auf dem Theater)
10. Willy Witthaut (Frankfurt – Ein Vorspiel auf dem Theater)
Judging the finals are the chief adjudicators Isabelle Loewe (DC Bonn), Sarah Jaglitz (S.A.E.C.L.O. Greifswald), David Lamouroux (DC Göttingen) and Michael Saliba (DC Stuttgart).  The are assisted by Anja Pfeffermann (DC Bayreuth), Benedikt Nufer (DC Hamburg), Daniel Grotzky (DC München), Dessislava Kirova (BDU Berlin), Gudrun Lux (DC Bonn), Irene Adamski (Klartext Halle), Jens Fischer (BDU), Lukas Haffert (Tilbury Köln) and Patrick Ehmann (BDU).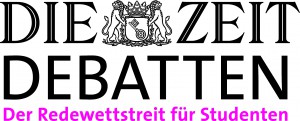 The ZEIT DEBATTEN series is convened by VDCH in cooperation with the weekly newspaper DIE ZEIT and Deutsche Telekom, supported through VDCH's media partner ZDF, a German public broadcaster. It has been a decade now since the first ZEIT DEBATTEN series kicked off with at least five annual tournaments, among them the German debating championship. The series is nested under the honorary patronage of the former German chancellor Helmut Schmidt.
glx / apf