New executive board in Berlin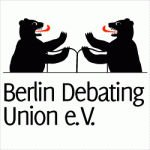 New executive board in the German capital: The Berlin Debating Union (BDU) elected a new board. Dessislava Kirova was confirmed in her office as president. She is now supported by John Eltringham, Juliane Mendelsohn, Kai Dittmann und Juliane Zeuschner.
Good luck to BDU, especially with the Worlds ahead!