Gutenberg-Cup: The final break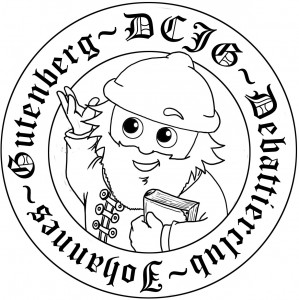 The final break at the Gutenberg Cup in Mainz:
Mainz (prop) vs. Freiburg (opp), Free Speakers are Robert Epple (Frankfurt), Michael Powala (Mannheim) and Victoria Reuter (Heidelberg). On the panel are CAs Sarah Kempf and Torsten Rössing, by their sides Marion Seiche (president), Pauline Leopold (chair), Ruben Brandhofer, Sven Hirschfeld and Daniel Jurjew.
The final motion: God is a woman.