Die 11. ZEIT-DEBATTEN-Serie beginnt
The new ZEIT DEBATTEN series begins! This weekend, speakers and judges from all over VDCH-land flock at Karlsruhe. Language of the tournament, as in the whole series, is German, the ZEIT DEBATTE Karlsruhe will be held in Offene Parlamentarische Debatte (open parliamentary debate, OPD). Chief adjudicators are Yin Cai (former president of Debating Club Heidelberg), Christoph Krakowiak (former president of Streitkultur Tübingen and current president of Streitkultur Berlin) and Mario Dießner of Streitkultur Berlin.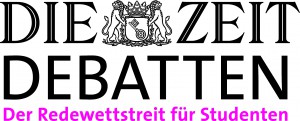 The ZEIT DEBATTEN series is convened by VDCH in cooperation with the weekly newspaper DIE ZEIT and Deutsche Telekom, supported through VDCH's media partner ZDF, a German public broadcaster. It has been more than a decade now since the first ZEIT DEBATTEN series kicked off with at least five annual tournaments, among them the German debating championship. The series is nested under the honorary patronage of the former German chancellor Helmut Schmidt.
glx / apf