Die ZEIT DEBATTEN gehen ins neue Jahr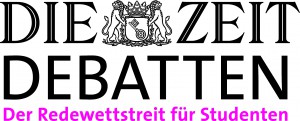 The German language ZEIT DEBATTEN series is taking on again in the (not so) new year – this time with a stop in Hamburg. Please read the German version of this to read more on the convenors, the chief adjudication core and the socials.
To get current news from ZEIT DEBATTE Hamburg please follow Achte Minute on Twitter and look out for the hashtag #ZDhh.