The break into the Final day // Freiburg in EFL-Final
Things were going fast during the second to last day at the World Universities Debating Championship 2013 in Berlin. So many Knockout rounds took place that we had difficulties following all announcements and breaks. But now we tried to sort everything a bit and present you here the break into the day of WUDC Finals.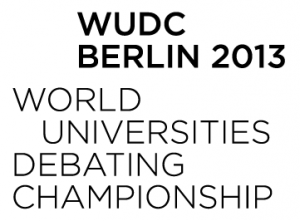 In the Open Break, we have a break into Semi-Finals. They will take place at 10:15 on today's Thursday. In the Open Semi Final 1 there will compete Monash B, Otago A, Sydney A, St Andrews A. In the Open Semi Final 2 we have Sydney B, Melburne A, Auckland A, Oxford B. Thus, the best eight teams come from Australia (4), England (1), Scotland (1) and New Zealand (2). As we hear (unconfirmed) the Semis will be judged by Harish Natarajan Paul Gross, Nupur Ups, Ely Zosa, Sam Block, Jonathan Leader Maynard, Monique Hardinge, Mary Nugent, Michael Baer, Amit Golder, Leela Koenig, Daniel Warents, Anat Shapira, Philip Belesky as well as the CA core.
In the ESL Break (Second Language), we have a break into Semi-Finals aswell. They will take place today at 8:45 am. Here, the best eight teams are: BBU Romania A (Romania), Leiden A, Leiden C (both Netherlands), Moscow IPT A (Russia), Yonsei Underwood A (South Corea), BRAC Bangladesh A (Bangladesh) , Erasmus B (Netherlands), RRIS A (Israel).
After the Semi Finals, there are transfers to the Maritim Hotel at 12:45. There, all Final Breaks will be announced 14:15. There will be a live stream available (as for the Semi Finals) at www.wudcberlin.com/live.
In the EFL competition (Foreign Language), the Semi Finals took place yesterday night and the break was announced late at the social already. Here, ALU Freiburg A (Germany), Porto A (Portugal), Tokyo A (Japan) and Bucharest A (Romania) broke into the Final, which will take place at 2.30 pm today.
Afterwards, the ESL Final will take place at 5pm with more than 700 confirmed external guests – full house in the Maritim. The Grand Final will take place at 7.15 pm afterwards. We can therefore expect the announcement of the winners and the award ceremony at the earliest at 10.30pm in the night. There will be streaming for the award ceremony as for the Finals. Achte Minute will cover all breaks and announcements on Twitter and Facebook.