Berlin IV 2014
British Parliamentary Style in the German capital: From 11th to 13th April 2011 this year's Berlin IV will be held. Chief adjudicators (CA) are Sally Rooney (EUDC 2013 Top-Speaker and Finalist, CA Moscow Open and UKDC 2013), Tomas Beerthuis (Deputy Chief Adjudicator of Zagreb EUDC) and Kai Dittmann (WUDC 2014 ESL-Champion).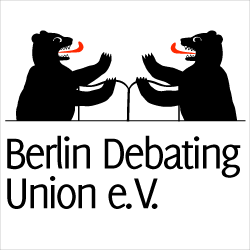 Registration will open on Febuary 1st, 6:00 pm. Reg fee will be 35 € per person. As Convener Alexander Hans states, the teamcap of 40 can be expanded if demand is high. Institution cap is 3 teams. The contact information if you have any questions is alexander [dot] hans [dot] mail [at] gmail [dot] com. 
As a special, Alex promises "free ice-cream and Bionade" during the tournament. For further information check out the website and the Facebook-Event.
General tournament details:
Date: 11th-13th April 2014
Location: tba
Convenor: Alexander Hans
Team cap: 40 teams (N-1 rule applies)
CA team: Sally Rooney, Tomas Beerthuis, Kai Dittmann
Tabmaster: Moritz Altner
Team cap per institution: 3
Accommodation: Crash
Reg fee: 35 € per person
Rounds: 5 preliminary rounds, break to semifinals and final
kem