Munich Open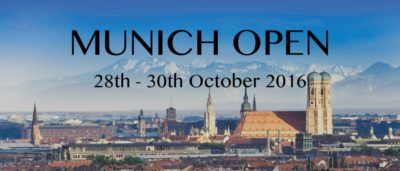 On October 28-30, 2016, the Munich Open will take place for the first time.
The tournament is international, therefore it will be held under British Parliamentary Style (BPS) rules with English as the spoken language.  It consists of 5 preliminary rounds, semifinals and the final. Chief Adjudicators are Melda Eren, Olivia Sundberg Diez and Ben Shaw. The role of the equity officer will be fulfilled by Milla Huuskonen.
Responsible for the well-being of the participants will be the Chief Convenors Christian Rausch and Katharina Heinrich. You can contact them via vorstand@debattierclub-muenchen.de or on Twitter (@DC_munich).
The information on the tournament in a nutshell:
Date: 28-30 October, 2016
Host: Debattierclub München e.V.
Accomodation: Crash
Registration: Online formulars:  Teams, Adjudicators, Independent Adjudicators. Registration closes on September 9th.
Registration fee: Debaters 35€, Adjudicators 30€
Adjudicator rule: n-1
Format: BPS
Rounds: 5 preliminary rounds, semifinals and final
Chief Adjudicators:

Melda Eren, Olivia Sundberg Diez, Ben Shaw

Equity Officer: Milla Huuskonen
Chief Convenors: Christian Rausch, Katharina Heinrich
For more information check out the Facebook-event.
jm./lok.