DLSU Worlds: First row of VDCH societies registered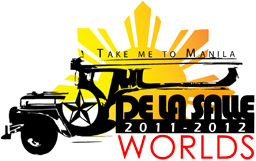 Take me to Manila! A first bunch of debating societies from under the umbrella of VDCH know for sure already: We are going to DLSU Worlds in Manila. In the recently published list, the convenors of the World Debating Universities Championships (WUDC or Worlds) at De La Salle University of Manila, Philippines have announced those deb socs followed their slogan "Take me to Manila".
It is a rough list of registration for DLSU Worlds only, containing many duplicates. But still, seven debating societies from the VDCH circuit made it to that list: Debattierclub Stuttgart, Berlin Debating Union, Debattierclub Johannes Gutenberg Mainz, Debattierclub München, Debattierclub Mannheim, S.A.E.C.L.O. Greifswald and Wortgefechte Potsdam. Plus, there is a newbie from the German circuit: Rhine-Waal University of Applied Sciences that has not been noticed before, neither internationally nor on VDCH level.
Those who may not find themselves on that list, don't worry! As mentioned before, there are still many duplicates. The Berlin Debating Union (BDU) for instance is registered thrice. Dessislava Kirova and Jonas Werner really wanted to make sure BDU will compete in Manila in Debember and January.
Since 1981, debaters from all over the world have been competing at the World Universities Debating Championships (WUDC) at alternating locations across the planet. It was not before 1996 that the British Parliamentary Style became the mandatory format for this annual tournament. From 27 December 2011 to 4 January 2012, the international debating circuit will flock in to De La Salle University at Manila, Philippines, where the tournament is part of the university's centennial. The convenors expect more than 1,400 participants from about 70 nations. Co-chief adjudicators are Lucinda David from the local La Salle Debate Society and Sam Block, alumnus debater from the Cambridge Debating Union. Joe Roussos (South Africa), Cormac Early (USA), Tim Mooney (Australia), Masako Suzuki (Japan) und Art Ward (Great Britain/Ireland) are their deputies. Language of debate is English and there are three categories: "Main" for native speakers, "ESL" (English as a Second Language, for those who prove great proficiency in English) and "EFL" (English as a Foreign Language).
apf / glx