Anmeldung zur 11. Deutschen Meisterschaft eröffnet

Registration for the German Debating Championship is open from now on! Debating societies which are members of VDCH (Verband der Debattierclubs an Hochschulen, engl. Association of Debating Societies at Universities) are allowed to register their teams for the biggest annual debating tournament in Germany. Teams from Germany itself, Switzerland, Austria and maybe even Italy are expected to participate. Registration details are published online, see www.ddm-heidelberg.de.
The German Debating Championship will be staged in Heidelberg from 9 to 12 June 2011. Convenors are Jenny Holm, Kristina Seebacher, Till Kroeger and Daniel Sommer, the CA-team is formed by Tim Richter,  Gudrun Lux, Jan Lüken and Marcus Ewald. Format will be OPD, the open parliamentary debate widely spread in the German speaking debating circuit. The Debating Club Heidelberg, then German debating champion in 2004, will now be host to Germany's largest tournament.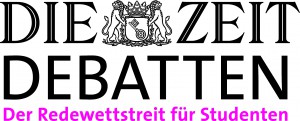 The ZEIT DEBATTEN series is convened by VDCH in cooperation with the weekly newspaper DIE ZEIT and Deutsche Telekom, supported through VDCH's media partner ZDF, a German public broadcaster. It has been a decade now since the first ZEIT DEBATTEN series kicked off with at least five annual tournaments, among them the German debating championship. The series is nested under the honorary patronage of the former German chancellor Helmut Schmidt.