DDM 2011: Breaks to semis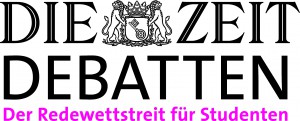 For teams qualified for semis of the Deutsche Debattiermeisterschaft (DDM), or German Debating Championship. Read here who competed on a sunny Sunday morning for the title of Deutscher Meister. The motion read "Brauchen wir einen europäischen Marshallplan für Nordafrika?", or "Do we need a Marshall Plan for North Africa?".
Jenachdem, Debattiergesellschaft Jena
Alpstein, Debattierclub St. Gallen
Streitkultur Stölzgen, Streitkultur Tübingen
Men in White, Debattierclub München
Free speakers:
Nicolas Eberle
Hauke Blume
Tom-Michael Hesse
Jonas Werner
Johannes Haug
Moritz Kirchner
Chief adjudication:
Gudrun Lux
Tim Richter
Jan Lüken
Marcus Ewald
Judges on the semis panel:
Almut Graebsch
Anja Pfeffermann
Torsten Rössing
Iris Reuter
Chairs were Nicolas Friebe and Leo Vogel.