DIE ZEIT supports debate activities
Are planning freshers' nights? Then don't forget to ask for subsidies from DIE ZEIT! Read more on the details in the German version of this post.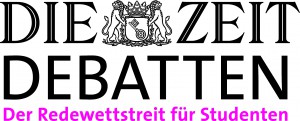 The ZEIT DEBATTEN series is convened by VDCH in cooperation with the weekly newspaper DIE ZEIT and Deutsche Telekom, supported through VDCH's media partner ZDF, a German public broadcaster. It has been a decade now since the first ZEIT DEBATTEN series kicked off with at least five annual tournaments, among them the German debating championship. The series is nested under the honorary patronage of the former German chancellor Helmut Schmidt.