Vienna Freshers' 2013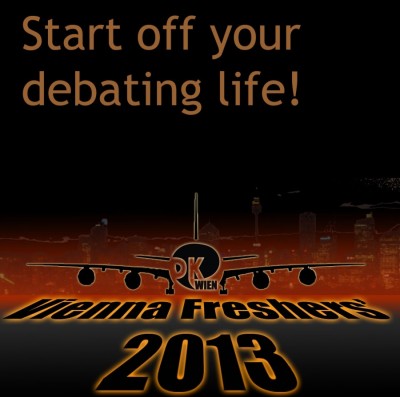 Der Debattierklub Wien lädt alle Neulinge* im Debattieren zur zweiten Auflage seines Novice-Turniers vom 8.-9. November 2013 in Wien ein.
In der Ankündigung schreiben die Organisatoren: "Are you new to debating? Can you feel the urge to take the bird off the runway and kiss the sky? Take some flying lessons and spread your wings at the second edition of Vienna Freshers'! This tourney will get start your debating life in a nice and circumspect way."
Chief adjudicators (CA) a.k.a Chief Aviators: Senna Maatoug and Melanie Sindelar
Format: British Parliamentary Style (BPS), English language, 5 min speeches, extra long prep-time 25 min
Reg fee: 25 € per person
Team cap: 24
N-1 for judges applies (novice and experienced judges welcome)
Locations: WU Vienna brand-new campus & one night in hostel
Start: November 8, Friday, 3 pm
End: November 9, Saturday, 11:30 pm
Registration will open soon! For more information, see the FB event.
*Novice speaker definition:
1) In university-level debating for less than a year
2) Not broken at a tournament before (except novice-only)
4 preliminary rounds, break to semi-finals
ak