On travelling to a very remote area – That was ZEIT DEBATTE Greifswald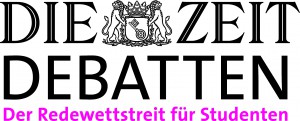 "How far have you travelled?"is the starting sentence into any kind of conversation this weekend. It is the kick-off into the new season of ZEIT DEBATTEN series at Greifswald. Flirts, smalltalk – they all start with the "How long did it take you to get here" question. Indeed, the Hanseatic town by the Bodden, a bay at the Baltic Sea, is located in quite a remote area. However, about 65 debaters found their ways to Greifswald. Many of them split their journey – it took them a two-day's travel via Berlin or Hamburg to get to Meck-Pomm.
To read more on how everybody got there, please read the German version of this article.