Wien bewirbt sich für EUDC 2015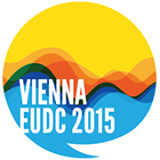 Der Debattierklub Wien hat seine Bewerbung um die Europameisterschaften 2015 offiziell gemacht. Es gibt nun ein Bid-Video und eine Website. Hier gibt's die neusten Informationen aus ihrem Newsletter:
Org-Com

The five people you can see on the picture (Andreas Prischl, Jakob Reiter, Elisabeth Vikydal, Stefan Zweiker and Anika Nussgraber at the scene of the Summer 2015 Teaser) are part of the DKWien crowd that will invest their time into making Vienna EUDC 2015 the Euros you do not want to miss. Our Orga is built around Stefan who takes up the role of convener and Jakob who is in charge of funding and relations to external stakeholders. Yet, there are so many more great people who contribute to Vienna EUDC 2015. For this reason the Org Com will grow continuously as 2015 approaches.

CA-Team

It is a little sad that we kill all those rumours about our potential CA-Team for the Vienna Bid with these email, but we simply do not want to keep you waiting any longer: We are proud to make public that Christine Simpson and Michael Shapira will lead the CA team, supported by three DCAs that we are going to select in 2014

Location

Vienna EUDC will be hosted by the Vienna University of Economics and Business (WU Wien), which is currently moving into their new campus at the Prater in Vienna. The new campus has enough space for up to 70 parallel debates at Vienna EUDC. Classes at the new campus commence in October 2013 and our regular debate training as well as Vienna Freshers' 2013 and Vienna IV 2014 are going to take place there. So, if you cannot wait till 2015 to see the venue of Vienna EUDC, we very much invite you to come to any of DKWien's tournaments!
To get a better understanding of where Vienna EUDC 2015 is going to take place, check out this map.

Coming up

Before we ask the council to vote on our bid for 2015 your will hear from us a couple of times:
Version 2.0 of the Bid Booklet, which will include a budget and a couple of minor updates, will be published on 9 August.

We hope to receive loads of feedback and questions from you via questions [at] viennaeudc [dot] eu. Right before Manchester Euros we are going to publish a FAQ, made up of the most frequently asked questions as an appendix to our latest Bid Booklet.
ak