DCAs for Vienna EUDC 2015 announced
The Adjudication team of the European Universities Debating Championships (EUDC) 2015 in Vienna, Austria, is now complete as the hosts have released the names of the three deputy chief adjudicators. Gavin Illsley, Emilia Carlqvist and Amanda Moorghen will join the Chief Adjudicators (CAs) Christine Simpson and Michael Shapira. Together, the five will set the motions for the tournament, set up the judging panels and select independent adjudicator for Euros.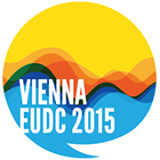 Gavin Illsley has won Euros in 2006 and has judged two finals of the World Universities Debating Championships (WUDC). Emilia Carlqvist has won Euros 2013 in Manchester in the category English as a Second Language (ESL) and was an ESL-finalist of WUDC 2014 in Chennai. Amanda Moorghen is amongst others WUDC quarter finalist and winner of the Exeter IV.
Prior to the selection of DCAs there was a an open application process, followed by a feedback phase where all debaters could submit confidential feedback about all candidates. The DCAs where then chosen by the CAs Christine Simpson and Michael Shapira.
Latest updates and more information about the tournament can be found on the EUDC 2015 facebook page or on the homepage of the tournament.
nbo/kem