European Universities Debating Championships in Vienna
This summer, about 1000 people will travel to Vienna for the 17th European Universities Debating Championships (EUDC or Euros). The Debattierklub Wien (DK Wien) hosts the week-long tournament. Stefan Zweiker is the convener, overseeing 23 other members of the organising committee and international volunteers.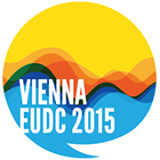 One year after and 267 kilometres to the north of Zagreb EUDC, the championship is again up for grabs. Until then, Sheffield holds the title; in the category of English as a Second Language (ESL), the current champions are from Belgrade.
The Blue Danube Euros, as the organisers call them, will last from August 2-8.
The Chief Adjudicators (CAs) are Christine Simpson and Michael Shapira. Along with the three Deputy CAs Amanda Moorghen, Emilia Carlqvist and Gavin Illsley, they will determine the motions of the tournament.
Important information in a nutshell:
Host: Debattierklub Wien, Debattierklub Wien EUDC GmbH
Date: 2-8 August 2015
Convener: Stefan Zweiker
Rounds: Nine preliminary rounds, Open and ESL Quarters and Semis, ESL Final, Grand Final
Chief Adjudicators: Christine Simpson, Michael Shapira
Deputy Chief Adjudicators: Amanda Moorghen, Emilia Carlqvist, Gavin Illsley
Team cap: 250 teams (approximately 750 international and 250 domestic participants and volunteers; about 1000 persons in total)
Registration fee: €320 per person
More information can be found on the tournament's facebook page and its website.
hug/ama