Beiträge zum Stichwort ' Münstermann '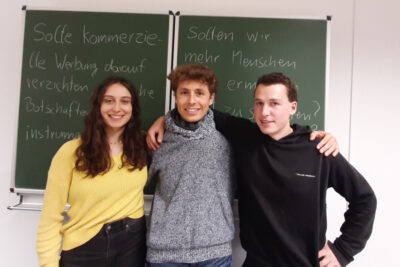 Die Mitgliederversammlung des Debattierclubs Magdeburg e.V. hat am 24. September einen neuen Vorstand gewählt. ...
This years Berlin Intervarsity was won by a team from Berlin: Hauke Blume und Niels Schröter opposed the motion, that THW support popular uprisings against dictators even in cases they are lead by Islamist extremist. Best speaker (Tab) was Michael Saliba from Stuttgart with an average of 78.8 points. 36 Teams competed during four rounds under the chief adjudication of Omer Nevo and Dessislava Kirova. The break to the Seminfinals: 1. BDU A (10) 2. Birmingham A (10) 3. Tilbury House Red (10) (Leonard Münstermann & Lyuba Ilieva) 4. Stuttgart (9) 5. Utrecht B (9) 6. LMU (9) (Marco Witzmann & Wladislaw Jachtchenko) 7. Auckland (8) 8. UCC Law B ...
Nach sechs Vorrunden und einem Losentscheid steht fest, welche 16 Teams im Achtelfinale weiter im Rennen sind um den Titel als Deutscher Meister im Hochschuldebattieren. An der Spitze steht ein Team, das sich bereits einen Namen als ewiger Vizemeister gemacht hat: Die Jenenser standen bereits dreimal im Finale einer Deutschen Debattiermeisterschaft. Doch die Konkurrenz ist ihnen dicht auf den Fersen. ...
11. Juni 2011 | Redakteur:
Achte Minute
| Kategorie:
Turniere
|
Kommentare deaktiviert

für DDM 2011: Der Achtelfinalbreak